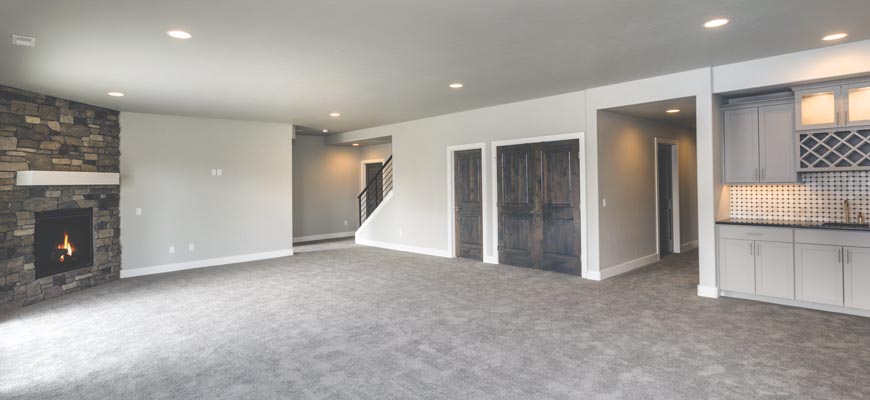 Whether you want to add a home theater system, wet bar, or gym/exercise room, our basement finishing professionals have you covered. Level 10 Builders pride themselves on delivering custom basements that exceed client expectations. Our basement remodeling experts have the skill set and experience to get your home renovation project completed on time and within your budget.
If you are thinking of finishing your basement anytime soon, it would be wise to map out remodeling costs down to the smallest detail so you know what your budget is. After all, planning is the most important step and will allow your basement remodel to go off without a hitch.
Basement Finishing ROI
Did you know that the average
in 2019 is 70% or more! This is not only a great incentive to add value to your home but also to add more space, make your home more functional, and increase your home's energy efficiency.
Choosing to remodel your basement over bathroom remodeling or kitchen remodeling might make more sense for your home's ROI because basement remodeling adds more space to your home. Investing in basement finishing can nearly double the amount of space you have in your home without having to build a home addition or sunroom.
Ways To Remodel Your Basement
Level 10 Builders provides design/build services for all of our clients. Here is a list of some our most popular basement amenities:
Basement Amenities
Kitchenette
Guest bedroom/suite
Pub style bar
Wet bar
Kids play room
Exercise Room/gym
Wine cellar
And more!
Trust our home remodelers to get your basement reno project done right on time — the first time! We work closely with all of our clients to ensure complete satisfaction and keep you informed from concept to completion. Level 10 Builders pride themselves on delivering high-quality results and aren't happy with your finished project unless you are.
Contact us today at (616) 822-4685 to get started. At Level 10 Builders, we look forward to working with you and converting your basement into one that suits your home's needs! You can also fill out our online form to schedule a free estimate.