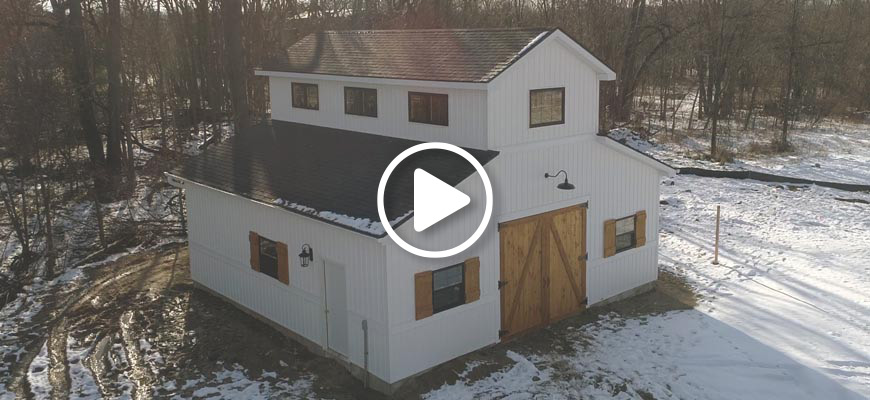 Whether you need a place to store one of your larger summer toys during the winter months or maybe you are finally able to add that man-cave that you've always wanted, Level 10 Builders can help you design and build a custom barn for your property. Our home remodelers can help you take advantage of the long-term benefits that a new barn or pole barn can offer while also working within your budget.
Benefits of a Custom Built Barn
Our Grand Rapids home builders have experience designing custom barns that provide a lot of long-term advantages to homeowners, farmers, and even businesses. With the option of additional doors and peak ceilings, our versatile and durable structures are built to withstand even the most severe Michigan weather while remaining easily accessible for when you need to find your equipment and supplies quickly.
Level 10 builders will take your thoughts and ideas and bring them to life. We pride ourselves on delivering what is expected and always exceeding expectations. As an insured and licensed barn builder, we are with you through every step of the barn construction process. From sketch and design, to excavation, pouring the foundation, and all the way to completion — our West Michigan barn builders are by your side.
What is a Pole Barn?
A pole barn is a large structure with no basement and a high ceiling, often built using a post frame construction. Today, these structures have evolved from being constructed using telephone poles to using more modern materials that result in a more structurally sound building.
Pole barns are one of the most cost-effective and economical ways to add an additional space as well as added value to your property. Most often, these structures serve as an agriculture building that provides an open interior space, but they can be used for anything ranging from a barn for livestock to an open-style home or possibly even a
or unique retail space.
One misconception of a pole barn is that they are only used by farmers to house livestock or to store tractors and farming equipment. However, they have evolved into a structural space that can also be used by both homeowners and businesses for a variety of different reasons. Some common uses include the following:
Common Uses of Pole Barns
Garage space for vehicles & other equipment
"Man cave" or "
"
Woodworking shop
Self-storage units
Equestrian stable & space for livestock
Agricultural product or feed storage
Office, warehouse, or retail space
Residential home or rustic cabin
If you are considering stick frame barn, steel frame barn or pole barn, contact us at (616) 822-4685. You can also fill out our online form to request a free estimate. At Level 10 Builders, we look forward to working with you to design a custom built barn that positively compliments your property!
, whether it be a